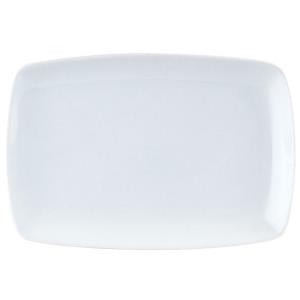 Food
Serving platter
Porcelain serving platter. Ideal for serving and sharing variety of foods at wide range of events.
Melamine serving platter also available in 2 sizes: 18 inch by 12 inch (46cm x 30cm) and 21 inch by 6.5 inch (53cm x 16cm)
All prices are for 3 day hire period. Longer hire terms available. Please contact us for a quote.
2.90
Serving platter
Serving platter
Features
Porcelain serving platter. Ideal for serving and sharing variety of foods at wide range of events.
43 x 29.5cm / 17 inch x 11 1/2 inch
Melamine serving platter also available in 2 sizes: 18 inch by 12 inch (46cm x 30cm) and 21 inch by 6.5 inch (53cm x 16cm)
Specification
Size: 43 x 29.5cm / 17 inch x 11 1/2 inch. Melamine serving platter also available in 2 sizes: 18 inch by 12 inch (46cm x 30cm) and 21 inch by 6.5 inch (53cm x 16cm)
Colour: White
Material: Vitrified porcelain