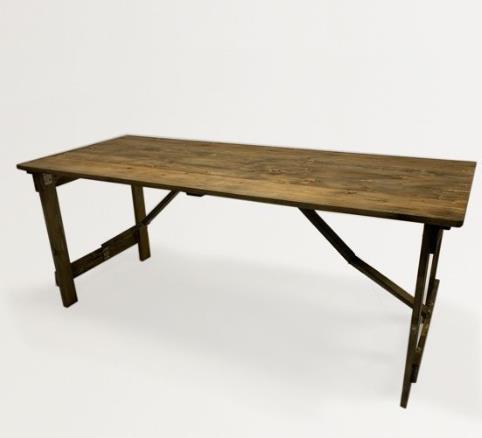 Trestle tables
Rustic Trestle Table
Rustic trestle table.
All prices are for 3 day hire period. Longer hire terms available. Please contact us for a quote.
21.00
Rustic Trestle Table
Rustic Trestle Table
Features
Regtangular 6 foot rustic banqueting table. Seats up to 6-8 people comfortably. Ideal for banqueting at large functions such as weddings and corporate events. Also ideal for serving buffets or use as a top table at weddings. 6ft x 2ft6". 183x76cm. 13.94kg. Folds flat to a width of 4.5cm. Tables stand about 74cm (circa 30") high when in use.
Specification
Size: 6ft x 2ft6". 183x76cm. 13.94kg. Folds flat to a width of 4.5cm. Tables stand about 74cm (circa 30") high when in use
Colour: Pale wooden
Material: Wood